September 15th, 2009 - mynetfair organizes South Africa Pavilion at the Markant trade fair in Karlsruhe, Germany
Press release, September 15th, 2009
mynetfair organizes South African Pavilion at the Markant trade fair in Karlsruhe, Germany.
The fact, that the mynetfair Business Online Fairs are not only virtually an interesting contact platform but also in the real world a good networking possibility was demonstrated at the Markant fair in Karlsruhe, Germany last Wednesday and Thursday.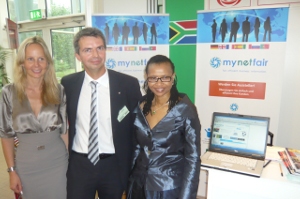 (from left) Christiane Creutzberg (Head of PR Sales Marketing Burda Direct), Ruediger Golluecke (CEO mynetfair), Tselane Mokuena (General Consul South Africa)
The event was accompanied with the special theme of South Africa. And mynetfair – as a share of Burda Direct – had invited 20 companies from the South African food segment as exhibitors. The idea behind this was the upcoming Soccer World Championship 2010 which will boost the demand for South African products next year. With coffee specialties, chocolate manufacturer, typical liquors etc. the South African pavilion offered a culinary trip through the entire country. "All retail chains will look for typical products during the Soccer World Championship 2010" explained Ruediger Golluecke, CEO of mynetfair. "Meanwhile, 50 to 100 South African companies are already using mynetfair as a platform to permanently represent their companies world wide and get contacts. Tendency: upwards."
Tselane Mokuena, South African General Consul in Munich, highlighted the relevance of such international cooperations with her attendance and stated about the online platform: "mynetfair enables many South African companies new sales channels especially in Europe." More than 5,000 companies are already using the platform as advertising and networking tool – as exhibitors and as visitors.
Bernhard Delakowitz, Business Unit Director of the Markant Group explained his view of the Online Fairs for manufacturers world wide: "In times of uprising discounter chains which follow the strategy of very small assortments we would like to promote special products. The Markant trade fair is the ideal location to display and communicate international products towards our member retail chains."