July 24th, 2009 - mynetfair on road show in South Africa
Press Release, July 24th, 2009
mynetfair on road show in South Africa
Soccer World Championship offers sales opportunities for the B2B-Online Business Fairs.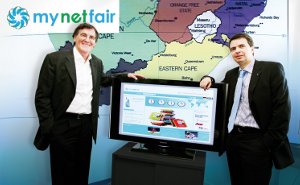 (from left) Juergen Siegloch (CEO Burda Direct), Ruediger Golluecke (CEO mynetfair)
Based on the upcoming Soccer World Championship 2010, the B2B Online Business Fairs mynetfair.com initiate new cooperations and marketing approaches with manufacturers from South Africa. The platform opens up towards South African suppliers and buyers to provide new chances just in time for the Soccer Championship hype. "All retail chains will search for typical South African items" explains Ruediger Golluecke, CEO of mynetfair. Between 50 to 100 South African companies already use mynetfair as a permanent presentation and contact platform. Tendency: increasing.
To establish and to deepen existing contacts as well as presenting the online business fairs mynetfair, Ruediger Golluecke and his team went on a road show. They visited the Chamber of Commerce in Durban, and Johannesburg, the Department of Industry and Trade in Pretoria as well as some South African companies such as Caturra, a producer of Coffee specialties, the drink producer Pacmar etc. "mynetfair was perceived quite well all over, the number of exhibiting South African companies on our online fairs will significantly increase based on these recommendations" stated Golluecke.
Markant, a strategic cooperation partner of mynetfair, also contributes a quite important aspect to increase business with South Africa. The independent cooperation of 100 retail chains will dedicate its internal fair in Karlsruhe, Germany in September to the theme "South Africa 2010", thus, enabling South African companies to present their products quite focused to a selected group of buyers from retail chains.