July 2nd, 2009 - mynetfair goes global
Press Release, July 2nd, 2009
mynetfair goes global - now also in South Africa
Exhibitors from the whole world who present themselves as business partners, and professional purchaser who are looking after specific products, and what ever can be used in a trade fair, is available and possible on the Burda Direct-cooperation mynetfair online. The web site brings offers from manufacturers and purchasers from retail chains together. For its first anniversary, the online portal comprehends now about 195,000 products, 9,500 brands and 8,400 exhibitors.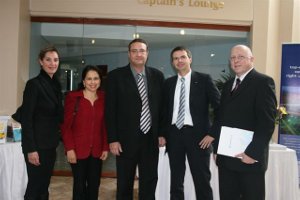 Ruediger Golluecke (2nd from right) meets with his team in South Africa new mynetfair exhibitors
mynetfair bases upon online -"ShowRooms" for exhibitors and recommended products for the category groups food, cosmetics and hygiene. "We want to offer a fast navigation" explains CEO Ruediger Golluecke. Therefore is given to the principle of transparency, to guarantee the quality of the information, an important consideration. Exhibitors show companies and significant details, including customer's references as well as reliable recommendations. Therewith the buyers not only see, that a potential business partner provides the requested product, but he can also see with a few clicks, what kind of experience he has in the category groups he is looking in.
You can choose between six different languages and is thus prepared for visitors and exhibitors from the whole world. Recently, a new and strong trade association has been started, with MARKANT Germany, which is a cooperation of about 100 big and medium sized retail store chains.
And mynetfair is not only developing but also anticipating. With the Soccer World Championship 2010 in South Africa only one year ahead, the platform really wants to open to South African suppliers and purchasers by providing new market opportunities for South African companies around the soccer hype. "A lot of retailers will look after specific topics related to the Soccer World Championship 2010" explains Mr. Golluecke. Between 50 and 100 South African companies are already using mynetfair for advertising and as a contact platform. And the number is rising!