June 9th, 2008, mynetfair presented at the UN in New York
Press Release, June 9th, 2008
mynetfair presented at the UN in New York
The new virtual trade fair platform mynetfair was presented at the United Nations last week in New York.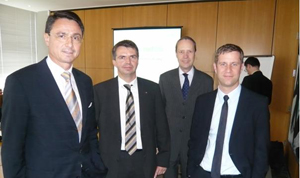 (from left) Ambassador Dr. Martin Ney, Ruediger Golluecke (CEO mynetfair), Dr. Mark Specht (CEO Burda Direct Interactive)
After the successful going-live of the new virtual trade fair platform www.mynetfair.com the project was presented to an exclusive group of UN country representatives in the German House at the headquarter of the United Nations.
Besides Ambassador Dr. Martin Ney, German Representation at the United Nations, Dr. Mark Specht, CEO Burda Direct Interactive, and Rüdiger Gollücke, CEO mynetfair, many UN country representatives were present. To these belong representatives of the permanent missions to the UN of Brazil, Iran, Ukraine, Bosnia-Herzegovina, Serbia, and Hungary.
Ambassador Dr. Ney wished mynetfair a successful start and made clear that "it gets more and more important for companies and industries to take part in international trade fairs due to the increasing integration of world economy." According to Ambassador Dr. Ney, its strength, especially in the era of internet, are based in the possibilities of direct personal communication.
Mr. Andriy Nikitov, representative of the Permanent UN Representation for Ukraine, declared mynetfair is an important step for the continuous cooperation of state and economy. It opens up the possibility for companies not only to advertise their products, but also the different stages of production.
Dr. Mark Specht / Burda Direct Interactive is impressed by the feedback mynetfair arouses in public as well as in politics: "It is noticeable how the world gets smaller and how the economic basic conditions have to be adapted. mynetfair takes this development up at the right spot and offers worldwide companies new chances."
Background information:
The new virtual trade fair platform mynetfair went live one week ago. It is the goal of mynetfair to offer all market participants - from raw material to the finished good and service providers - a fair market access. The basis for the new platform is a data base with information about the whole value chain in the consumer goods sector.