October 21st, 2010: Mobile Shopping Guide - mynetfair ProductScout
Press release, October 21st, 2010
Mobile Shopping Guide - mobile scanners really provide support
The mynetfair ProductScout-App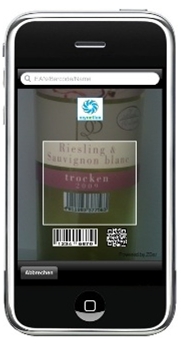 "Look what my mobile can do"
was yesterday, today's barcode scanners are even useful tools.
Those responsible for PR and marketing have realized this trend towards "mobile marketing" long ago.
Already now it is obvious: the combination of widely spread existing and approved technology combined with a free of charge accessible database will not only influence the consumer's behaviour – also the product marketing will have to increasingly coop with this trend.
Do you know this situation?
"Terrific your wine, where did you get it?"
"I don't know, it was a gift."
Meanwhile, no one has to fear this situation anymore whose smartphone holds the right app(lication) available. mynetfair provides this app free of charge as
mynetfair ProductScout
for the iPhone, Google-Android and in the near future also for others systems. With a single click on the scan button the camera of the mobile phone recognizes the barcode on the bottle and provides the according points of sale nearby. And as easily I can recommend products, innovations etc. with a single click to my friends on facebook.

Beyond, I receive information about alternatives and similar products, consumer reviews, professional product test and more than 8,000 recipes provided by the cooperation partner Recipe-Wiki.

Besides the search for a single product across more than 1.2 million barcodes, you can monitor the latest sales offers and even the entire assortment of 12 retail chains. For this you can use either your regular browser on your computer or your smartphone for which the mobile version has been optimized to the smaller display.
The information is being updated from first hand source such as the retail chains as well as from the suppliers. It is being further enriched through the cooperation with partners such as Ciao.com (Microsoft) or Otest.co.uk, preiszeiger.de or billiger.de with supportive content such as reviews. This way, it turns out to be a valuable guide for private shopping and an important source of information for professional sourcing as well.


Beyond the one dimensional
barcode
mynetfair's scanning app also recognizes the two dimensional
QR-Codes
(Quick Response), by which even a group of products can be displayed.
Furthermore, everyone can easily create his own shopping list. The
mynetfair-App
supports to
quickly
find the
right products
and to
optimize
shopping.
For companies that maybe interested the company located near Strasbourg also offers affordable "white label" solutions for company scanner applications based on its data base.