June 3rd, 2008, mynetfair goes live
Press Release, June 3rd, 2008
mynetfair goes live
mynetfair, the new virtual trade fair platform operated by Burda Direct Interactive and the IFC Europe Group went live on 2 June 2008. The new trade fair portal, mynetfair, links all players in the consumer goods value chain, allows for the creation of new products and opens up new market opportunities.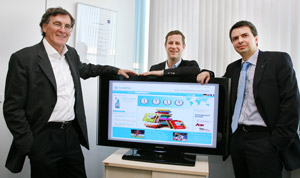 mynetfair is a central database for all the materials, assembly and manufacturing components, production processes and distribution channels required for products in the consumer goods sector. It is a unique trade fair platform which brings innovators, manufacturers, suppliers, traders and buyers together in an uncomplicated way. mynetfair launches with approximately 2,500 companies presenting over 100,000 products online.
"With mynetfair, Burda Direct Interactive is once again demonstrating its key competencies", explains Jürgen Siegloch, Managing Director of the Burda Direct Group. "Together with our partner, the IFC Europe Group, we have created a cutting edge online portal which offers a hitherto unprecedented market overview thanks to the innovative use of visual elements and, in terms of Web 2.0, it's naturally state of the art too". The goal of mynetfair is to offer fair market access to all participants in the various stages of production - from raw material to end product - and to all service providers, something which has never existed before in this form. The basis of the new portal is a database of information covering the entire consumer goods value chain.
"Every product has its story", says Rüdiger Gollücke, CEO of the IFC Europe Group and Managing Director of the new platform. "mynetfair supports the process of creative product development and brings together the elements required to realise your ideas", says Gollücke speaking about the mynetfair philosophy. Trends and developments can be identified at an early stage by every industry and converted into market success quickly and easily. This is also supported by cooperations with market research institutes and other research bodies. Marketing innovations, manufacturing products, selling goods or finding items to purchase - mynetfair is a global network in which every individual participant benefits.
mynetfair is also setting standards with regard to climate and environmental protection right from the start. Thanks to the optimum networking of market participants via internet, freight and passenger transportation are lastingly reduced. In addition, mynetfair supports and informs about topical environmental conservation projects and one USD from every member subscription fee goes towards selected environmental projects.
Background information:
mynetfair is a joint venture by Burda Direct Interactive and the IFC Europe Group.
Burda Direct Interactive is a subsidiary of Burda Direct, the company for sales and services. As specialists for community marketing Burda Direct Interactive combines competency in database marketing, performance based marketing, eBusiness solutions and telecommunication services. The company offers innovative solutions for client dialogue resulting in both added value and increased customer retention.
The IFC Europe Group is regarded as an expert in the area of development and distribution of store brands and licence products in Europe and abroad.
Community marketing professionals meet experts for the international distribution of consumer goods. Together, Burda Direct interactive and the IFC Europe Group are steering mynetfair - a powerful, virtual trade fair platform for consumer goods.